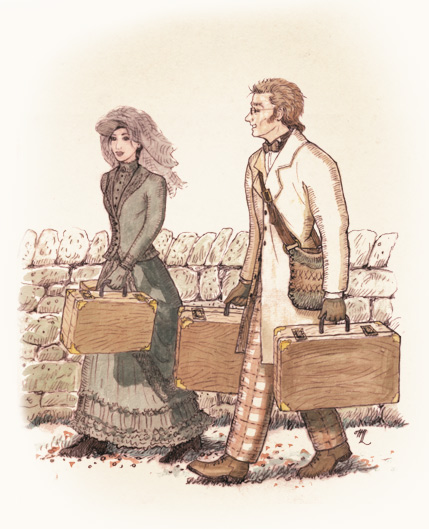 And a Team of Skilled People
Having misspent my youth, I left school and worked odd jobs such as truck assembler and cook. A self-taught wilderness living instructor, I also spent extended periods in the forest, living off the land for weeks at a time. Finally deciding on a military career, I served twenty-five years in various branches and levels, mostly with the RCAF. As an author, my challenges lay in ensuring that Kate Tattersall's Adventures were complete, and fleshing them out by researching the events. Often there would be a reference to some
small thing I would have to expand upon, so the contemporary reader could fully grasp the situation. Amazing little particulars and facts about life in the mid 19th Century were gleaned from letters, notebooks, artwork, narratives, a ledger, and countless other sources which served as great inspiration. Read My Tale of Diaries Discovered here.
If you're interested in learning about the times Kate lived in, I recommend perusing the Articles section of this website, where you will find further historical facts, biographical information, and greater detail in regards to the early Victorian era (1837 to 1861). If there is something about those times you would like to read an article about, please send me a note and I will do my best to provide some information. I'm not a historian, but I have learned a great deal about the 1800′s while researching Kate's adventures.
In particular I would like to thank the illustrator who by taking my descriptions and research was able to envision Kate on her adventures and provide drawings for this website. Mia Lane is an award winning Canadian artist who is best known for her nature themed paintings. She resides in Prince Edward County, Ontario, and has been actively pursuing her art since childhood. All original artwork appearing on this site is the express property of Mia Lane and copyright protected worldwide.
All other images on this site are copyright expired and available in the public domain. The vast majority are from Wikipedia.
Dan Ireland is the web designer who created this entertaining site. Mike Hodgson is the brilliant mind who keeps it all running like well oiled clockwork.
The Adventures will be brought to you by Dancing Cat Books, a young adult imprint of Cormorant Books, an award winning Markham Ontario based publishing house.
I would also like to thank the British Museum for the access provided to the Paul Hamlyn Library, which was invaluable in verifying many little known historical details and events.