Kate often referred to hose, stockings and socks. I thought they were all the same thing. Then I came to a passage in which she wrote about wearing hose and socks together. Now I needed clarification. Luckily a friend is a Victorian fashion aficionado. She gave me a complete explanation and provided most of the information for this article. The words hose and stockings were used interchangeably then as now, generally meaning something long, reaching the knee or thigh, while socks were short. My friend also interpreted Kate's ledger for me, pointing out the entries in regards to clothes and what they meant. It was quite an eye opener into a wealthy Victorian Lady's shopping practises. (The poor went barefoot, or wore boots with no socks, their feet callused and covered with sores, chilblains in the winter.)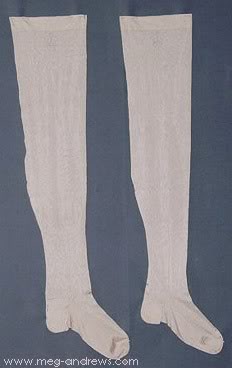 Only the elite could afford knit silk hose which were, and still are, the luxury item of the hosiery world. Woven silk was less expensive, followed by fine linen, knit wool, then woven wool, and finally cotton. From Kate's ledger it is clear she had a hosier in St. James that crafted long silk pairs for her legs. She lists her thigh, knee, calf, ankle, and foot measurements for "heavy-weight pure-thread silk hose knit to the required shape." The only colours made note of are white, and occasionally pink, yellow and black, but there was every colour available at the time. Top lace trim is listed and seemed to vary in price, Kate preferring a fleur-de-lys pattern. This trim was not just a decorative feature, the lace was crafted with greater elasticity to aid in holding the hose up (now known as welts). Elastic garters were already in use by 1850*, but she never writes about wearing them. I have to believe she donned these silk hose everyday, always listing them with her outfits, and purchasing dozens of pairs annually. (On a couple of her travels Kate wrote that she was wearing her hose more like leggings, the feet worn through and cut off.) To the left is a plain light pink pair of Queen Victoria's silk hose from the 1840s. Meg Andrews, Antique Costumes and Textiles, is a London based expert who has a fantastic website.
Kate acquired her stockings usually from the same hosier, and ordered knit wool made to fit of many bright colours and styles, including patterned and striped. I learned that the stockings were slipped on over the silk. (Of course when going out to a ball or gala affair she would have just worn hose and dancing shoes, not layers.) These stockings were worn for warmth, but also to protect the silk from the leather of outdoor footwear, perhaps with the cuffs folded over the tops.** Kate specifically ordered pairs to match her different boots, and the boots were crafted to match various outfits, along with her gloves and hats. Some stockings were embellished with lace and embroidered with silk, gold, and silver thread on the cuffs. They must have been very beautiful and yet always hidden under petticoats and long skirts. She paid close to half a pound for one pair on several different occasions. It makes me wonder if decorated Christmas stockings are based on such extravagance.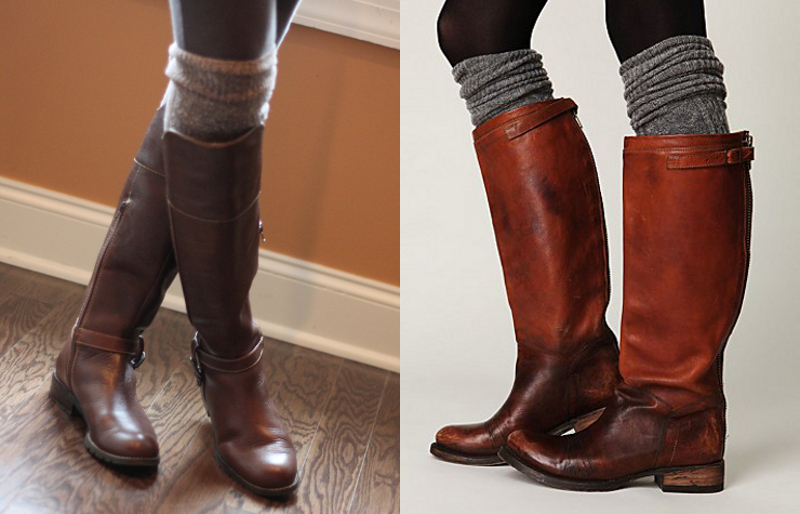 Here's a couple modern examples of hose and stockings with boots, although in our parlance they would be nylons or tights and socks. I can't find period examples because women's legs were always hidden under their skirts, the few exceptions being paintings of parlour scenes and the ladies are in just hose and slippers. I believe Kate may have folded the more extensively decorated cuffs of her stockings over the tops of her finely crafted boots. These photos are from The Pretty Dish, sock love.
Socks seemed to be a less particular purchase. They were quite inexpensive when compared to other items on Kate's list, most of wool, some cashmere. (Silk socks were also made at the time.) She wrote in her diaries about knitting socks on several occasions. Were socks just added for colder weather? Her shoemaker crafted custom footwear to fit Kate's feet, ankles, calves and shins, following every contour, and perhaps her winter boots had room for three of four layers, but that is never specifically referred to. As I quoted in the previous article, layers of socks were definitely worn, The Magazine of Domestic Economy, London 1841, recommending three or more pairs for cold weather. This is one of those details costumers often get wrong for period pieces, as though people didn't get cold feet in the past.
Part 2 will cover chemises and camisoles.
*In 1820, Thomas Hancock patented elastic fastenings for gloves, suspenders, shoes and stockings.
** This was the same for men, wearing silk, worsted wool, cotton, or linen, and then heavy wool with their boots.